Chuu Ou
Biographical Information
Kanji

紂王

Rōmaji

Chū Ō

Basic Information
Gender

Male

Status

Deceased

Professional Information
Affiliation(s)
Debut
Manga
Anime
Media
Voice Actors
Japanese Voice

Takehito Koyasu (1999)
Daisuke Namikawa (2018)

English Voice

Corey M. Gagne (1999)

Image Gallery

Chuu Ou 「紂王, Zhou Wang」 is an antagonist of the Houshin Engi anime and manga series and is the Emperor of the Yin.
Appearance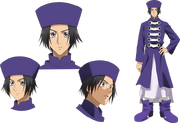 Describe the character's appearance here.
Personality
Chuu Ou is shown to be a benevolent ruler before falling to Dakki's temptation. While naive and a bit perverted, he was good to his subjects and taught his sons the importance of valuing the people and protecting them when peace is threatened.
Under Dakki's influence, Chuu Ou is little more than a puppet and agrees with whatever she says in order to keep her favor. He can also be quite cowardly. He is however very protective of Dakki and will order anyone who offends her or attempts to harm her killed. It should be noted that whenever Dakki is not present, Chuu Ou seems to revert back to his original personality.
History
Write about the character's background (past) here.
Plot
Beginning Arc
Human Paopei Arc
Genius Doushi Arc
Shuchi Nikurin Arc
Brothers of the Sky Arc
Two Princes I Arc
Idle Talk
Buseiou's Rebellion Arc
Shisei Arc
Past, Present, and Future Arc
Maka Yonshou Arc
Spy Arc
Killer Virus Arc
Two Princes II Arc
Chou Koumei Arc
Sennin War Arc
Togenkyou Arc
Son of Heaven Arc
Signpost of History Arc
Equipment and Abilities
Weaponry
Abilities
Relationships
Sennin World
Human World
Battles
Quotes
Trivia
References
Ad blocker interference detected!
Wikia is a free-to-use site that makes money from advertising. We have a modified experience for viewers using ad blockers

Wikia is not accessible if you've made further modifications. Remove the custom ad blocker rule(s) and the page will load as expected.