Fugen Shinjin
Biographical Information
Kanji

普賢真人

Rōmaji

Fugen Shinjin

Basic Information
Gender

Male

Age

72+

Class
Hair Color

Light Blue

Eye Color

Lavender

Status

Deceased

Professional Information
Paopei
Disciple(s)
Debut
Anime

Episode 1 (2018)

Media
Voice Actors
Japanese Voice

Megumi Ogata (1999)
Nobunaga Shimazaki (2018)

English Voice

Jon S. Watson (1999)

Image Gallery

Fugen Shinjin 「普賢真人, Pu-Xian Zhen-Ren」 is a supporting character of the Houshin Engi anime and manga series and is the leader of the Juunisen from Kun Lun.
Appearance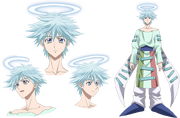 Describe the character's appearance here.
Personality
Describe the character's personality here.
History
Write about the character's background (past) here.
Plot
Beginning Arc
Human Paopei Arc
Genius Doushi Arc
Shuchi Nikurin Arc
Brothers of the Sky Arc
Two Princes I Arc
Idle Talk
Buseiou's Rebellion Arc
Shisei Arc
Past, Present, and Future Arc
Maka Yonshou Arc
Spy Arc
Killer Virus Arc
Two Princes II Arc
Chou Koumei Arc
Sennin War Arc
Togenkyou Arc
Son of Heaven Arc
Signpost of History Arc
Equipment and Abilities
Paopei
Abilities
Relationships
Sennin World
Battles
Quotes
Trivia
References
Ad blocker interference detected!
Wikia is a free-to-use site that makes money from advertising. We have a modified experience for viewers using ad blockers

Wikia is not accessible if you've made further modifications. Remove the custom ad blocker rule(s) and the page will load as expected.